You can connect to our network with snw.io.

Hey Guest, I hope you're having a great day!
ShockNetwork
Happy holidays everyone! We've had some great things in the works this week that we're excited to release.
Sale
Everything (except unbans) are now 25% off through December 31st! This is a sale, not a coupon, so it is automatically applied.
Shocker
We now have a new rank called Shocker on Factions. This rank is $375 (Awesome, current top rank, is $200). The upgrade from Awesome -> Shocker is $131.25 during the sale. Shocker gets you the following:
The entire staff team has been extremely hard at work getting this update ready for you guys and we're finally ready to release it!
Mob Arena
We've added MobArena based on popular demand. We currently only have one map but we will be adding more soon. The current one is called Town and was built by
Blockworks
Our hope is that we have some awesome fan submissions now that we have Creative up! You can post MobArena maps in the build submissions forum....
Yes, I put google ads on the site. I did this to see how much we can make from them. If there's something that I can do to help us make a bit more money to help pay for more developers to help me, better hardware, cooler graphics, awesome new builds, pizza for the staff, and anything else, I want to give it a shot. While I do intend to profit from this server, we are far from that at this point and I want to help us get there.

If you want to help support the server but don't like ads, you can...
Voting rewards are now setup! You can vote by clicking the tab above. It'll open a window where you can go between our two voting sites. Voting rewards are:
Factions
Every vote gets you 7 mcmmo levels
1/4 chance for extra 15 levels
1/10 chance for extra 25 levels
At 10 votes get an extra 10 levels
At 50 votes get an extra 100 levels
At 100 votes get an extra 250 levels
Network
Votes for Invasion, Risk, and Lobby are all under the same reward...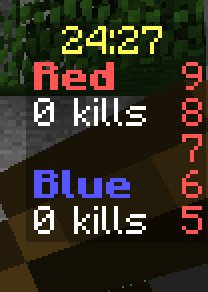 The last few days have been spent updating miscellaneous things while working on building the structure for Skyblock.
Bans
Bans can now be appealed. Be sure to follow the format.
Unbans can now be purchased for $10 up to two times.
We are allowing the purchase of unbans because we'd rather have people spend the money to get back on the server instead of buying a new account from Mojang. We suggest trying to appeal your ban first.
Invasion